Land, Water & Waste Management Services
I am qualified to provide engineering services and technical consultation in the areas of land, water and waste management, including research relating to water quality and soil contamination.
Also I am a certified project manager and can assist you with the initiation and planning of your project, plus the execution, monitoring and finalising of it.
Consult me for planning and development of urban and rural areas, to guide your projects during implementation or if you need a fixer to get your project started in Romania.
I also run workshops on waste reduction, composting and sustainable living. You can contact me for translations, if you need a guide in Sibiu and surroundings, or you have an event that needs to be organised.
I am constantly networking and making contacts with authorities and private companies, both Romanian and international. Having a local consultant in central Romania is a great advantage, saving money and time. I am fluent in Dutch, English and Romanian, and speak basic German.
Working with high standards is one of my priorities.
Working Area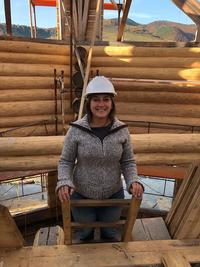 Land:
ground, road and water construction, ground mechanics
Water:
ground water and surface water management, infrastructure for drinking water, sewerage, irrigation and drainage
Environment:
soil research, soil decontamination plans, environmental supervision, waste management, recycling, composting, green living
Nature:
eco-hydrologic analysis, nature management, ecological bank and water management, educational programs
Safety:
assessment of safety, health and environmental management systems of construction works
Construction:
supervision on construction works, project management and planning